The Ossia project aims to provide knowledge in a set of software services for the writing of scenarios which are open, nonlinear and multi-user.
For all the fields related to interactive digital content of different types, the need to organize them according to specific logical-temporal constraints is central.
Whether it's about interactive digital display systems for industry, museum installations or video games, from the performing arts to the cultural industry, it is necessary to establish a scenario in order to control the interactive media. Currently, in all these fields, the writing behavior of digital content within a computing device based on a physical or digital environment remains a complex operation and executed only by experts.
The project Open Scenario System for Interactive Application (OSSIA), with one of its objectives to gather and create knowledge for the formalization of logical-time constraints, aims to provide developers with generic tools for the writing and verifying of these constraints. Eventually, it comes to encouraging the emergence of software tools allowing the user to write complex interaction scenarios in the most intuitive way possible.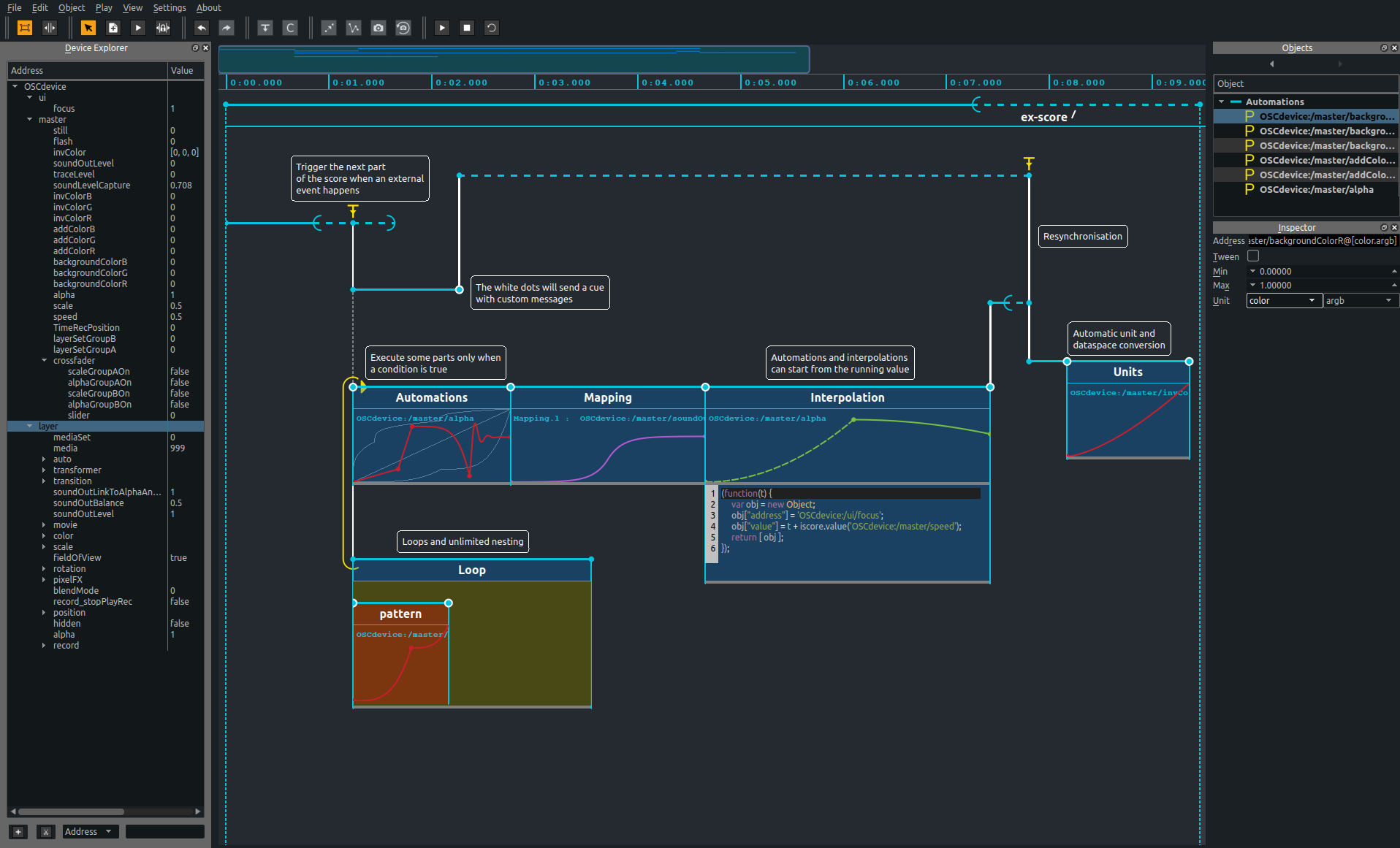 To conduct this work, the project Ossia gathers a consortium of actors from institutional and private research, industry or working in the field of creation; Bordeaux Laboratory for Computer Science (LaBRI), the GMEA – National Center for Musical Creation Albi Tarn, the National School of Games and Interactive Media Angoulême (ENJMIN) and companies: Galamus, Blue Yeti and RSF. It is also part of a network of many collaborators associated with the creation, teaching or training. This project is supported and funded by the National Research Agency (NRA).
This project builds on the research and work of the Virage platform funded by the NRA from 2007 to 2010 involving several members of this consortium. Initially the platform's objective is to observe and accompany change of current practices in the fields of performing arts and cultural industries through the development and testing of software prototypes.
---